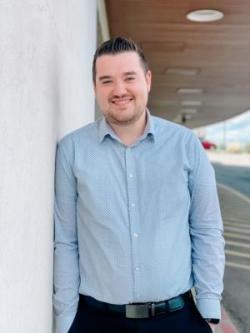 Talk to us about being on the Campaign Cabinet. What motivated you to want to get involved?
Early in my career, I was exposed to United Way of Pierce County and United Way of King County in Washington State through Columbia Bank. Columbia Bank has always been involved in one way or another with a lot of different opportunities for volunteering. When moving to Boise in August 2020, I wanted to make sure that the giving campaign was strong and the relationship was strong here in Southern Idaho with United Way of Treasure Valley. I was able to connect with Ed Schultz early on and we had him out to our location to help create a successful campaign. I also joined Leadership Boise for the class of 2021. Our team's service project was volunteering at the Holiday Helper Event.  After seeing the impact and getting to know a couple people in the United Way, it was a no-brainer to see how I could contribute when Dan Tillis from my Leadership Boise class mentioned that he was looking for Campaign Cabinet Members.
There are so many ways to give back and be involved with charitable organizations. Why do you choose United Way of Treasure Valley?
There are so many amazing nonprofits and charitable organizations in the Treasure Valley. It is so hard to know where to be involved or how to help all of them. The thing that I have loved about the United Way is that by helping them, you also help the rest. The way the United Way partners and supports other nonprofits is extraordinary. When helping with the United Way, you know your efforts are being spread out to so many other organizations also.
Tell us a little about your role with your organization and what you do. If you're retired, tell us about your work history.
I work as a NeighborHub Manager for Columbia Bank. Columbia Bank opened up our second NeighborHub concept location in Boise in 2020. The concept revolves around community. We are a space that is utilized as a full service branch location while doubling as a shared workspace, event space, and community space. My role really revolves around the business development and community involvement aspects. I primarily partner with business owners in the community to solve banking and lending needs for those businesses.
What do you like to do in your spare time?
In my spare time I love being with my family and friends. My wife, Elisa and I have been married 8 years and we have an almost 3 year old, Emmett, and a 5 year old, Adley. We often are still trying to go out and explore all that Boise has to offer. I also love to golf, watch movies, and go to concerts.