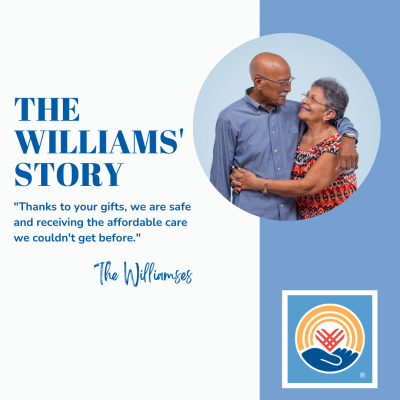 Life can change in unexpected ways, at any time.  
At nearly 80 years of age, Manuel and Maria Williams found themselves falling into a financial hole and Manuel was battling a serious health condition.  
On the heels of Manuel's dementia diagnosis, the Williamses fell victim to a predatory mortgage and faced the possibility of homelessness for the first time in their lives. 
Their only income was from social security and there was no safety net to get them through this hardship.  
Unable to find a place to live due to credit problems, and combined with an overwhelming amount of medical bills, the Williamses turned to staying in cheap hotels. Though unsustainable, they managed to keep a roof over their heads for six months.  
As if the rising cost of hotel stays and the medical bills piling up wasn't bad enough, Manuel and Maria were hit with an urgent and unexpected family emergency that left them in a truly precarious position.
They were just three days away from being forced out onto the streets with two dogs in the middle of a pandemic when Maria reached out to a United Way of Treasure Valley funded loan program that promised to get them back on their feet.  
While waiting for the loan to go through, the Williamses received immediate financial help, found a place to call home, and were able to utilize another United Way of Treasure Valley funded program to get Manual more affordable health insurance to help him manage his dementia with an appropriate care provider.  
The funded programs accessed by the Williams allowed them to reclaim their dignity. It gave them the security they needed to live in a stable, healthy environment. 
The Williamses said they don't know where they'd be without help from United Way of Treasure Valley. 
And we don't know where we'd be with YOU.
Your gifts give folks like The Williamses dignity, security, and peace of mind.  
Today is your opportunity to turn your generosity into lasting change, as we work to help families gain access to attainable housing, affordable healthcare, and financial assistance to get them back on their feet.