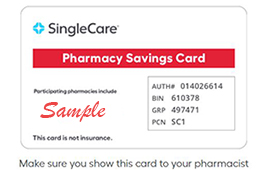 It's a chance for a family to keep more of their hard earned money. It's a chance to access medicine regardless of insurance status. It's a chance to stay in good health.
And it's just one part of United Way of Treasure Valley's work to be United for Healthy Communities.
We partner with SingleCare to provide access to affordable prescription medications in order to ensure greater health and financial stability to community members.
THE SINGLECARE PRESCRIPTION SAVINGS CARD:
Is free for everyone – it's like a coupon that you can use as often as you want.
Reduces cost – just show the card every time to get the lowest prices, whether it be SingleCare, insurance or retail price.
Is easy to use with no eligibility requirements.
Covers FDA approved prescription medications.
Saves up to 80% off prescription prices.
Accepted at major chain pharmacies nationwide
This free card, available to anyone - insured or uninsured, acts like a reusable prescription coupon. Just select your favorite pharmacy, then email, text or print the card, and present it at participating pharmacies.
 
Download your own card by clicking on the image below
Discounts of up to 80% are automatically applied to make sure you receive the lowest price (discounts vary be medication).
Anyone can use a SingleCare card, regardless of whether you are insured or uninsured. 
Find the cheapest price in your area with the drug price look tool
How it works
SingleCare works directly with pharmacies to negotiate up to 80% off prescription prices. We pass these savings onto our members, free of charge.